Bridgeport Electrical Rewiring Remodeling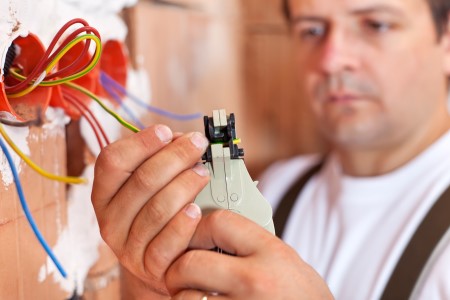 One of the first things you need to consider when you are planning a home renovation is the existing electrical system. Is the condition of the existing electrical wiring and the capacity (in amps) of the system up to code? Along with plumbing and heating and cooling systems, updating the Bridgeport electrical rewiring in a house will be one of the most expensive remodeling tasks. Major electrical rewiring will require you to use the services of a Bridgeport licensed electrician.
Many times the old service panels do not provide adequate grounding, so if you are keeping your existing panel it should be thoroughly checked out by an Bridgeport electrician. Older homes and some homes constructed during the 70's and early 80's used aluminum wiring. Modern building codes in most communities do not allow aluminum wiring to be used. Most older Bridgeport homes have a very limited number of outlets in each room. Be sure to take the time 02to plan for any new outlets you will want with their corresponding wiring at this time. If your outlets are the old two prong style you will need to replace them with the grounded three prong type. It is a good idea to replace all the outlets and switches in the house. Most municipal codes will require you to use a GFCI (ground fault circuit interrupter) type outlet in the bathroom, kitchen and any other wet areas that are in close proximity to water.
There are a lot of things a Bridgeport homeowner can do to determine just how large the Bridgeport electrical rewiring remodeling rework will be. Determining the size of the system you have and the condition of your wiring and other components and developing a plan for any new outlets and circuits you many require will go a long way in planning your budget for a home electrical system update. You should get estimates from a reputable Bridgeport electrical contractor.