How To Know Your Home Needs New Electrical Wiring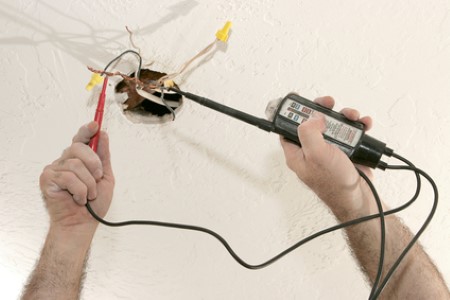 Without a doubt, our residential New Haven electrical systems are largely responsible for the high quality of life that we enjoy. Because electricity has become so ubiquitous, people often take it for granted. Unfortunately, this mindset can be dangerous because all though electricity is everywhere it still must be treated with respect in order to ensure its safe usage.
In order to ensure that your residential electrical system is as safe as possible, it is important that you develop a relationship with a professionally licensed electrician. In New Haven, the most skilled and experienced electricians are at Electrical Services Group LLC. Their electricians have the ability to ensure that your electrical system is always operating in the safest fashion possible.
One of the most common electrical safety problems is the result of old and faulty electrical wiring. The expert electricians at Electrical Service Group have provided the short guide so that you can be aware of the dangers and warning signs of faulty New Haven electrical wiring.
Dangers of Old and Damaged Electrical Wiring
Every time you turn on an electrical appliance, you are drawing electricity through the wiring within the walls of your New Haven home. If your electrical wiring is outdated, it may not be able to handle the heavy electrical loads that we demand in this day and age. If your electrical wiring is damaged, then major problems can result.
Drawing electricity through damaged wiring or overloading outdated wiring can cause a fire. According to experts, there are over 53,000 electrical fires a year. Many of these fires can be prevented by hiring a professional electrician to conduct rewiring services.
Warning Signs of Dangerous Electrical Wiring
The warning signs that you may need to conduct a rewiring project fall into one of three general categories. First, the electrical wiring within you New Haven home may be damaged. Second, the electrical wiring may be outdated or insufficient to provide for your electrical needs. And third, your electrical wiring may be overheating. Here are a list of signs that these electrical problems may be present in your New Haven home:
Frayed Wires
Heat and Scorch Marks
Tripping Circuit Breakers
Smoke
Flickering Lights
Loose Connections
Rodent Damage
Popping, Crackling, or Buzzing
If you notice any of these warning signs in your New Haven home, you should call Electrical Services Group LLC immediately. Their professional electricians can inspect the problem to determine the best and most cost-efficient remedy. They have the skill to completely replace all of your New Haven electrical wiring.